THE 1300PL PLASMA TABLE FEATURES AN INTEGRATED WATER TABLE AND IS LIFTGATE READY – WE MEAN IT, NO FORKLIFT REQUIRED. 
We know not every shop has a forklift or a team of riggers at the ready – that's why the 1300PL was designed from the ground up to be delivered by liftgate. 
Whether it's going in your garage or on the production floor, the 1300PL offers a quick two-man set up and easy assembly, designed to get you cutting parts ASAP.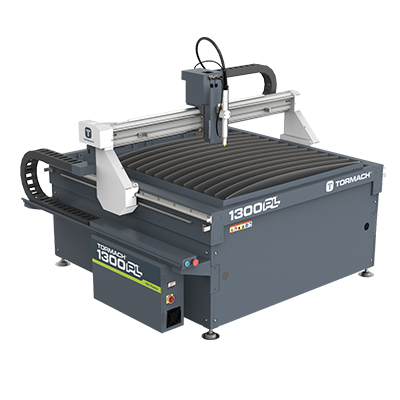 ITEM CODE
T1300PL
Travels
X Axis
50 in. (1270 mm)
Y Axis
51.5 in. (1308 mm)
Z Axis
Z-Axis 3.9 in. (100 mm)
Table Specification
Table Size
51.2 in. × 51.2 in.
(1.3 m × 1.3 m)
Table Type
Water Table
Machine Specifications
Machine Footprint
78 in. × 70 in.
(1.95 m × 1.7 m)
Overall System
Height 55 in. (1.4 m)
Typical System Weight
1,232 lbs. (559 kg)
Bring Tormach to your workplace, ask for a consulation today!
Talk to our experts via Online consultation and request for a demo