Designed for mixing
The Composer Series targets material mixing and experimentation, allowing innovators to develop custom filament from a wide variety of polymers and additives. With a mixing screw, this delivers quality material compounding. The Composer Series is ideal for:
Research and development
Compounding
Experimenting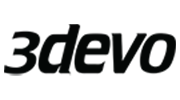 Filament tailored to your needs
Any material. Anytime.
3devo brings together the resources and expertise for advancements in
design, materials, and experimentation for one of the most famous additive
manufacturing technology – FDM printing.
Our wide-range in material settings have been extensively tested by our
engineers so that you can produce the best results. Here are a couple of our
most popular materials:
Composer & Precision Desktop
Filament Makers
A complete filament production line, packed into one machine.
Our filament makers are specialized, result-oriented machines with industrial quality power. Making materials simpler than ever to work with, while offering even more possibilities in manufacturing and innovation.
Give yourself the freedom to create your own custom filament. Increase control over your filament and minimize material waste and shorter time leads.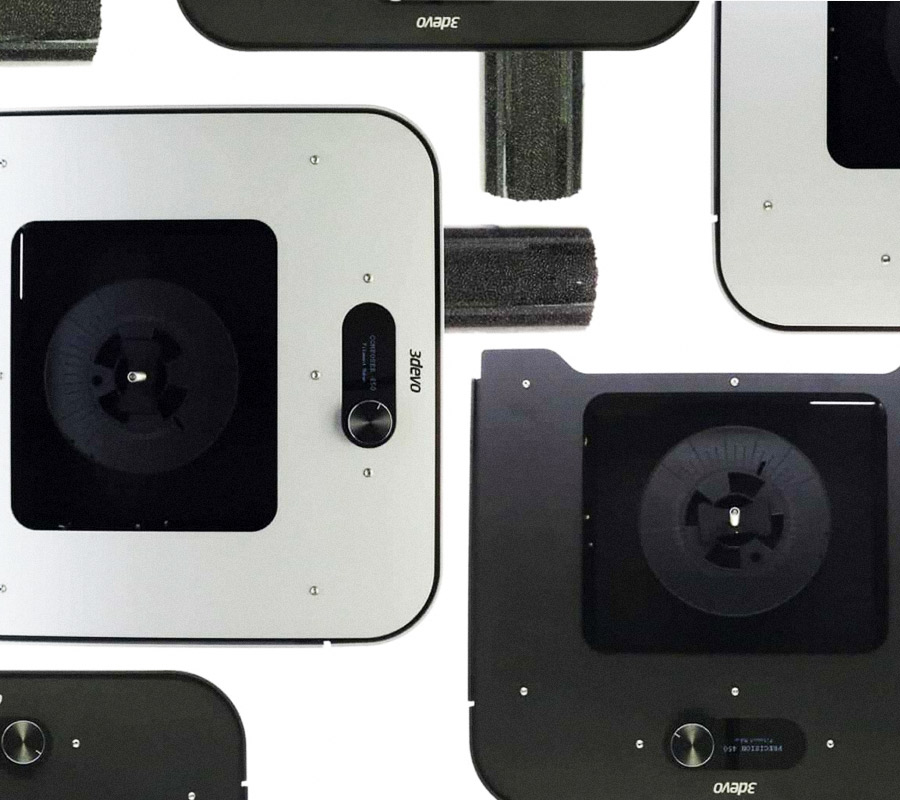 COMPOSER 350 TECHNICAL SPECIFICATIONS
Filament Maker Overview
Temperature max
Max temperature of 350 °C
Band heater
Ceramic
Purpose
For mixing, compounding & experimentation
Compatible materials
PLA, ABS, PC, PS, PETG, TPU, TPE, PPS, PVA, Bio PE, NEW PET and PA (6,12, 66)
Independent controls
Yes
Output
RPM range
2 - 15 RPM
Filament diameter range
0.5 - 3 mm (0.02 - 0.12 inches)
Optical sensor accuracy
43 microns (1.69 mils)
Nozzle extruder
Diameter 4 mm (0.16 inches) - Replaceable
Extruder System
Screw/Barrel alloy
High chromium and molybdenum steel alloy
Hardening treatment
Nitrided
Compression
3 stage
Extruder design
Swappable
Extrusion screw type
Mixing screw
Energy
Consumption average
300 - 400 W
Consumption max.
1300 W
Voltage
110 - 230 V
Frequency
50 - 60 Hz
Capacity
Hopper volume
2 liters
Spool holder
1
Spool size
Diameter 240 mm (9.4 inches)
Width 120 mm (4.7 inches)
Size & Weight
Dimensions
506 x 216 x 448 mm
19.2 x 8.5 x 17.6 inches
Weight
Extruder (Without box) 24.5 kg (54 lbs)
Extruder + box 27 kg (59.5 lbs)
Connection
Firmware updates
Regular updates
Extrusion data analysis
DevoVision application
COMPOSER 450 TECHNICAL SPECIFICATIONS
Filament Maker Overview
Temperature max
Max temperature of 450 °C
Band heater
Ceramic
Purpose
For mixing, compounding & experimentation
Compatible materials
PLA, ABS, PC, PS, PETG, TPU, TPE, PPS, PVA, Bio PE, NEW PET, PA (6,12, 66), PEEK, PC, PS, PEKK, PAEK, PEI, PSU, PES, PTFE, PVD+, and many more
Independent controls
Yes
Output
RPM range
2 - 15 RPM
Filament diameter range
0.5 - 3 mm (0.02 - 0.12 inches)
Optical sensor accuracy
43 microns (1.69 mils)
Nozzle extruder
Diameter 4 mm (0.16 inches) - Replaceable
Extruder System
Screw/Barrel alloy
High chromium and molybdenum steel alloy
Hardening treatment
Nitrided
Compression
3 stage
Extruder design
Swappable
Extrusion screw type
Mixing screw
Energy
Consumption average
300 - 400 W
Consumption max.
1300 W
Voltage
110 - 230 V
Frequency
50 - 60 Hz
Capacity
Hopper volume
2 liters
Spool holder
1
Spool size
Diameter 240 mm (9.4 inches)
Width 120 mm (4.7 inches)
Size & Weight
Dimensions
506 x 216 x 448 mm
19.2 x 8.5 x 17.6 inches
Weight
Extruder (Without box) 24.5 kg (54 lbs)
Extruder + box 27 kg (59.5 lbs)
Connection
Firmware updates
Regular updates
Extrusion data analysis
DevoVision application
Unlock more applications using custom filaments
Talk to our experts via Online consultation and request for a demo