MORE SPEED. MORE BRAINS. THE MORES YOU'VE BEEN ASKING FOR.
We gave our 770M a trio of servo motors, an encoder for rigid tapping, and a BT30 spindle. Faster travel speeds cut down program times, and a beefier spindle chews through aluminum, titanium, hardened steels, and alloys without a concern of tool pullout.
The 770M is full of details that make using it a pleasure. It's the newest generation of CNC that offers enough value, performance, and support to earn the name Tormach.
1.5 HP @ 10,000 RPM
1,422 x 1,232 mm (56 × 48.5 in) Table Size
ITEM CODE: T770MPRR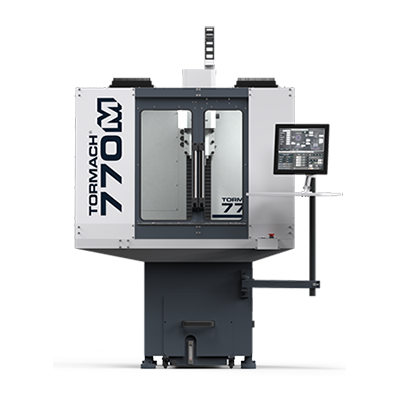 | | |
| --- | --- |
| ITEM CODE | T770MPRR |
| MACHINE | |
| Table Size | 660 mm x 203 mm (26" × 8") |
| Table Slots | 15.9 mm - Three slots (5/8" - Three slots) |
| Typical System Footprint | 1422 mm x 1232 mm (56" × 48.5") |
| SPINDLE | |
| Spindle Power | 1.5 hp (1.12 Kw) |
| Maximum Speed | 10,000 RPM |
| FEED RATE | |
| Spindle Power | 135 IPM (3.43 m/min) |
| Maximum Speed | 110 IPM (2.79 m/min) |
Bring Tormach to your workplace, Ask for a consulation today
Talk to our experts via Online consultation and request for a demo