3D Printing
DELTA WASP 40100 CLAY
Delta WASP 2040 PRO is the powerful and versatile delta 3D printer you need everyday. Accurate and reliable on all materials with pieces up to 40 cm.
CONFIGURABLE TOOLS 
RED SPITFIRE Extruder extruder for high-quality fast prints 
Nozzle diameter: 0.4 mm, 0.7 mm, 1.2 mm (filament diameter 1.75 mm) 
LDM WASP Extruder extruder for dense-fluid materials 
Nozzle diameter: 1.2 mm 
RESURRECTION SYSTEM 
The system recovers automatically interrupted prints in case of accidental shutdown or blackouts. 
FREE Z SYSTEM 
It's possible to measure the height of interruption of the print and restart from there. 
SUSPENDED BOWDEN 
It makes possible to download the inertia on the hanging rubber-bands, improving like that the printing speed and quality.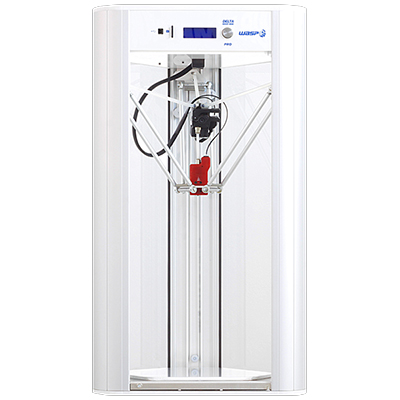 | | |
| --- | --- |
| Print volume: | Ø200 x h 400 mm |
| Minimum layer height: | 50 micron |
| Maximum print speed: | 500 mm/s |
| Maximum printing speed: | 800 mm/s |
| Acceleration: | 15.000 mm/s2 |
| Maximum bed temperature: | 110 C° |
| Extruder / Nozzle diameter standard: | WASP SPITFIRE RED Extruder with LT cartridge, nozzle 0,4 mm |
START PRINTING YOUR OWN METAL PARTS TODAY
Talk to our experts via Online consultation and request for a demo